The Best Clean Stand Up Comedy Online
Funny is funny. Laughter is universal. But some comedy is in a class of its own. There are performances that resonate further, stories that are inherently more accessible. Certain flavors of stand-up are more akin to magic, bowling over the audience with crafty misdirection and ingenuity. The best wordplay is about what isn't said, the titillating connections in the collective unconsciousness, a prize for being in the know. Regardless of what's considered the hottest act or style, gender or class, in any given era; no matter the moral trends or shifting social norms, there will always be, for some, a reverence for good, clean comedy. And the Clean Comedy on Spotify from Uproar Entertainment is as good as it gets!
"Clean" has many interpretations, it's relative. There are some that believe it means absolutely spotless, absent of any profanity and mature subject matter. Others allow for innuendos and allusions to risque topics in their brand of family friendly humor. There seems to be an intuitive threshold for social commentary, light jabs at politics and religion, with respect to respectability. Some curse words are less cursed than others, less vulgar over time. Federal regulations in 20th century radio and television, live performance obscenity laws and fluctuating rating systems all distinguished what is acceptable for the masses, for the times. For a genre that encompasses so many different performers, and so subjective in its implementation, there is a common, defining principle to clean comedy: conscious, considerate cleverness.
"Clean" can be a dirty word in some comedy-loving circles. Many believe that there should be no limits to what a comedian can say. Some of comedy's greatest achievements challenged regressive institutions, smashed barriers of what's socially acceptable, saw hypocrisy or disparity or existential dread and laughed in its face. It's true: the history of funny isn't always "clean." What's often lost in these conversations about comedy's principles, is the acknowledgment that comedy is a language. Humor is a powerful tool for communication. Comedy goes beyond comprehension; it heightens the way people relate to one another.
One can argue the value of a knock knock joke vs. George Carlin's 7 Words, but you can't argue the artform's impact. Jokes can bond friends and family, break down and explain complicated concepts, define a worldview and influence culture. Stand-up routines can be as messy, grotesque and chaotic as the world tends to be, but you don't need to gleefully tear the world apart to be groundbreaking. Clean comedy lowers barriers while accepting limitations, avoids landmines while unearthing gold. Children are exposed to new, fun, mind-altering perspectives—a lifeline for young introverts and the future generations of funny people—when comedians are more mainstream. Some people enjoy a night out knowing the entertainer isn't actively trying to mock their ideals. Some people don't want to be edgy or inappropriate, to co-sign and consume cynical, radical irreverence, but they definitely want to laugh. Everybody wants to laugh!
Enjoy these comedy albums full of worry free laughs!
Clinton Jackson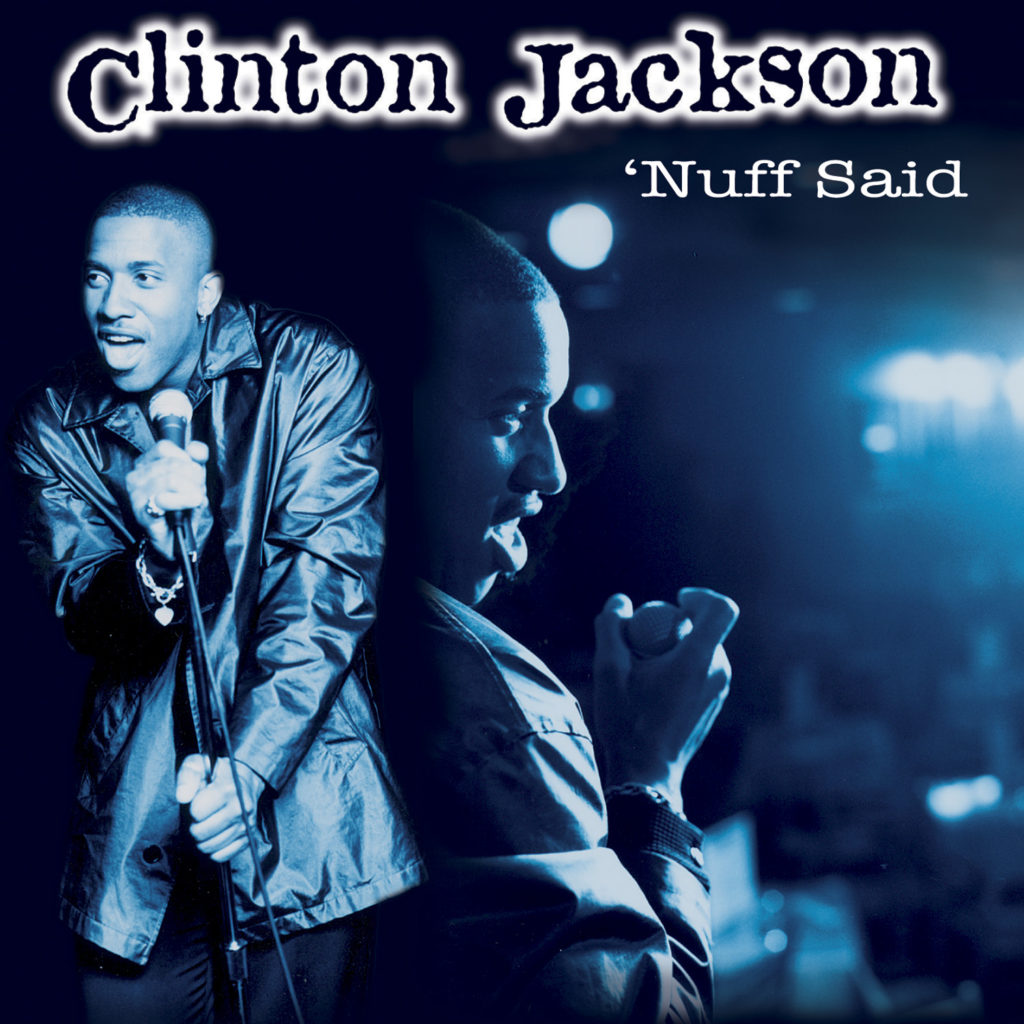 Clinton Jackson is a quintessential observational comedian. The best observational comedy is a mixture of curiosity, perceptiveness and the talent to relay to the audience something so simple, specific, universal, and true that they wonder, "wow, why didn't I think of that?" It's a masterful way to reflect our shared experience and Clinton Jackson is a master of the form. "Nuff Said," Jackson's 1999 release, is a snapshot of the era's pop culture and politics, the shocking and sensational stories like the Unibomber and the racially-charged Denny's boycott. Jackson embodies the working class intellectualism of his hometown San Francisco Bay Area; he's excellent at voicing the nagging worries created by bridge tolls and convoluted parking policies. The album devotes a good chunk of time to humorous nostalgia. Clinton reminisces about Halloween, Dr. Seuss and Tang (vs. Kool Aid) in hilarious detail. All in all, Clinton Jackson exudes a cool, amused bewilderment. His winking, nudging charismatic wit in "Nuff Said" is a comedy performance you'll never forget.
Gary Mule Deer
Gary Mule Deer is a classic. His album "Yeah, But The Response Was Great…" is salty, saucy and chock full of funny. The comic employs a timeless style, a throwback to the rapid fire, one liner comedians of yesteryear. He's a true talent, multifaceted and rock steady. He is also reminiscent of outlaw country music, akin in wit and grit. Gary is as cowboy as it gets: six-string strumming, honey drawl, a full blown Johnny Cash tribute on the last track to boot. Gary Mule Deer is a master at the comedy that you want to share around the office, or the church, or the dinner table, but can never quite duplicate. There's something unique in Gary's effortless, rollicking playfulness that elevates the smirking, slick humor. The clever, matter of fact jokes are often stacked on top of each other, compounding the laughter. "Yeah, But The Response Was Great…" has an irresistible inventiveness, a craft, a technique built on expectation and subversion. You never know where Gary Mule Deer is going but you'll be glad you went along.
Gilbert Esquivel
Sharp. Cool. Hysterical. "Just Representin" by Gilbert Esquivel is an explosive comedy album. From the audience to the performer, everyone is having a blast. Gilbert is exceptionally gifted at keeping it real, turning a negative into a positive, and writing strong, fast, expressive jokes. "Just Representin" is a tribute to the working class, being broke, being resourceful, and celebrating diversity. Gilbert rides the edge of poking fun and provocation. He's never mean spirited in his characterizations or gratuitous about the stereotypes he makes light of, but he's unflinching in his steadfast pursuit of making the crowd roar. The audience is rocking from the jump. The album shows that when everyone is fair game, and the jokes are really good, everybody can have a good time. There's an egalitarian wholesomeness to "Just Representin," about being proud of who you are and appreciating the nuances of your community. Gilbert is a proud Mexican, a student of humanity and life, a talented mimic, and a tireless entertainer. Add that all together and you have "Just Representin," a rich and authentic comedy album.
Maryellen Hooper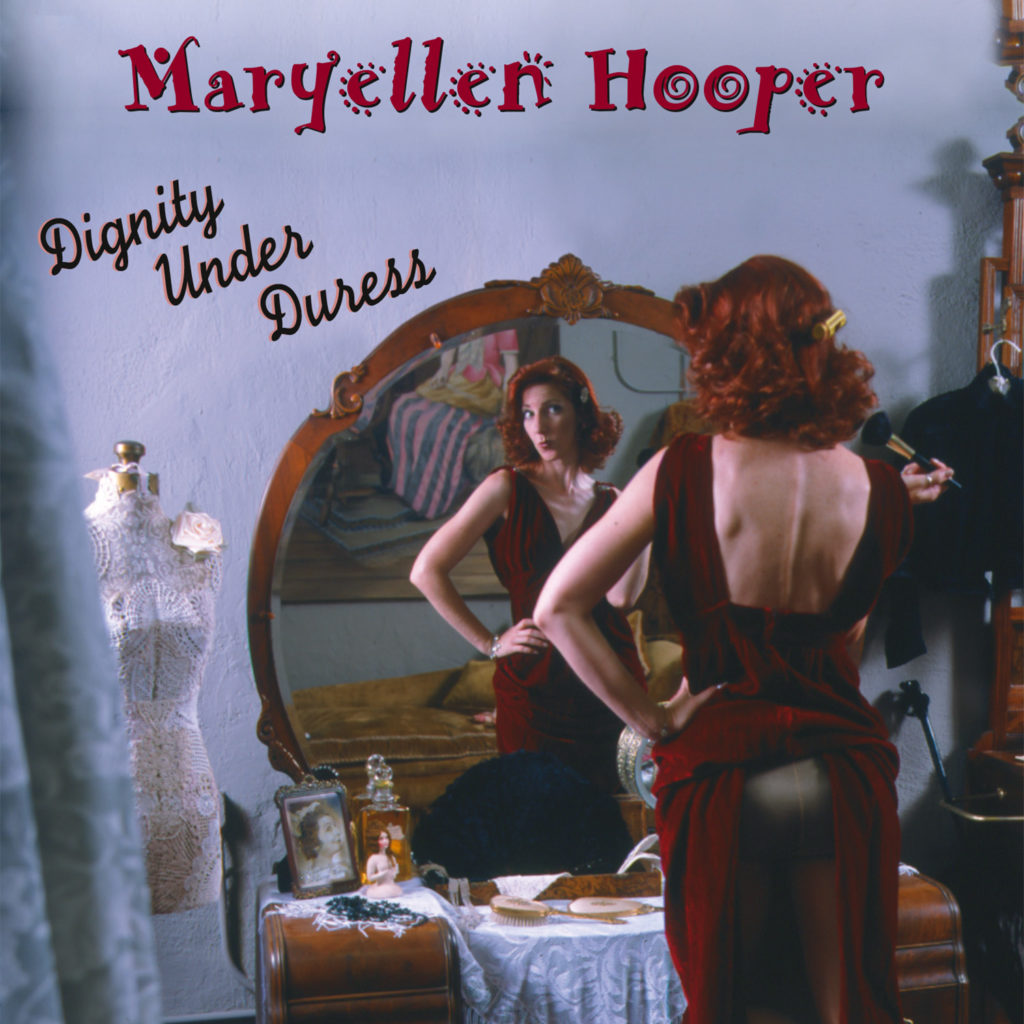 "Dignity Under Duress," the comedy album by Maryellen Hooper, takes kidding seriously. Maryellen, personable and effervescent, mixes punchy writing with a playful sensibility. Every line is a white lie, a misdirection, an ironic jest or a sarcastic boast, all endearing the audience to the delightful stand-up. Maryellen Hooper's distinct rhythm is noteworthy. Her verbal tics and tones heighten her wry, self-deprecating charm. "Dignity Under Duress" showcases exaggerated anecdotes about romance, glamour and totaling a car. Maryellen makes a ton of great observations about men and women, the chiding and double standards, a balanced view on the ever-raging battle of the sexes. Her comedy of errors with vanity mirrors, fashion, salons, and cosmetics is inspired. The album is best when it weaves a compelling yarn, slice of life foibles and misadventures. Each story is told in intricate, dynamic, unraveling detail. "Dignity Under Duress" culminates in a winding, wondrous tale about the courtship that resulted in her long term relationship. Maryellen Hooper's run-ins with hiking, waxing and razor blades make the ensuing romance that much sweeter.
https://uproarcomedycd.com/wp-content/uploads/2020/08/uproarcomedylogo.png
0
0
admin
https://uproarcomedycd.com/wp-content/uploads/2020/08/uproarcomedylogo.png
admin
2019-02-26 18:11:37
2019-02-27 16:31:11
Clean Stand Up Comedy