The Best Lesbian Comedians on Spotify
The Best Lesbian Comedians on Spotify, courtesy of Uproar Entertainment, are outrageously funny. Albums from exceptional talents like Margaret Cho, Julia Scotti, Marga Gomez, Kristin Key and Suzanne Westenhoefer boast razor-sharp commentary, rebellious moxie, and authentic perspectives. Individually these comedians are distinct and daring, hilarious and socially conscious. Together they express politics and pop culture across decades, insight into tropes and nuances in the LGBTQ+ community, and remind us that laughter is universal.  
Lesbian comedians are an integral part of comedy history. Moms Mabley, Lily Tomlin, Ellen DeGeneres, Wanda Sykes among others, on stage or screen, whether out publicly or not, are an underappreciated thread in comedy's rich tapestry. Not only are these comedians trailblazers and pioneers, they represent a point of view often misrepresented, if presented at all. Lesbian comedians have often been on the forefront of changing the industry. They are the reason there are more places to do comedy, more diverse audiences, more platforms, more ethical practices, more inspiration for more unique voices. Ignoring their contribution will deprive you of the pleasure of hearing some of the most challenging, exciting, evolving, involving, intelligent artists of our time. Ignorance isn't bliss; listen to these great comedians!
Here are a few of the Best Lesbian Comedians on Spotify to get you started.
Kate Clinton
"Comedy You Can Dance To" by Kate Clinton is truly inspired, layered, educated satire. The release is every bit of 1998, a sign of the time's pop culture, expressed for and from the super savvy. Since comedian Kate Clinton doesn't slow for those not in the know—her kinetic wordplay is bedazzled with had-to-be-there references—there is a double appeal: nostalgia for the yesteryear hip and a landmark for newer comedy fans yearning for knowledge. "Comedy You Can Dance To" is often a medley between the innocuous, the insightful and the incising. Kate Clinton's brilliance comes in many styles and flavors, deployed in waves. There are whimsical one-liners, snapshots of her fleeting and charming imagination. This may be followed by the comic's wisdom, putting words to thoughts, shape to intangibles; Kate is inventive and intuitive as she reflects on culture and society. And then, in a cheeky, biting critique, Kate Clinton may snap off a resounding round of potent, poetic, political prods, pokes and punches. It's impossible to know where the next joke will come from, what unexpected but masterful application of the form you'll be tickled by. "Comedy You Can Dance To" is one of the only comedy albums that evokes ice dancing, Xena Warrior Princess, and the existential turning point as drugs to combat HIV/AIDS became more available and effective, with the same unflinching-but-matter-of-fact smarts and sincerity.
Listen to: Kate Clinton – "Comedy You Can Dance To"
Listen to: Kate Clinton – "Read These Lips"  "
Jackie Monahan
Fresh and funny Jackie Monahan brings big laughs with her debut comedy album, "These Lips." The mischievous and imaginative comedian, a contestant on Last Comic Standing and winner of TimeOut "Joke of the Year," blends wits, glitz, grit, tall tales and debauchery. Jackie delights in dissecting the world around her, making sly, worldly observations with dark, blue, shocking language. She has a remarkable talent to paint a picture in your mind's eye that is so absurd, scandalous and innovative, you'll be laughing and groaning in disbelief. "These Lips" is a balance of fun, charming silliness, dry wit, and dark humor, so you can savor the unsavory.
Listen to Jacki Monahan – "These Lips" 
Kristin Key
Kristin Key rings true with every release. The Texas-born comic is forthright and funny: she isn't pretentious or pompous, but she doesn't pander. Kristin's cadence and high energy, her razzing and wry sensibility, plays with the audience's expectations. "Where The Cab Takes You," Key's sophomore release, is utilitarian and egalitarian, sturdy, hard and punctual jokes for down to earth, smart people. She's engaging and interactive, guttural and goofy. Kristin Key has the reckless abandon and steely-eyed diligence of a prospector; all subjects are mined for every joke imaginable. She tells chaotic and tipsy anecdotes, openly stumbling into blunders with an open container, in lush, meticulous detail. There is a specific catharsis to Kristin Key's bawdy positivity. She asks the questions we're not supposed to ask, but really want to. She often says what we know we shouldn't, with a grinning wink. "Where The Cab Takes You" is a testament to consciousness not being a part of the calculus when you're blacked out, less so when you're telling jokes the way Kristin does. Kristin couldn't think less of social mores. She doesn't stand on ceremony or waver to respectability. She isn't shy, isn't defensive about being offensive; she leans all the way into being unapologetically uncouth. And at the end of the night, Kristin Key plays a few original funny songs. The musical performance doesn't showcase a cutesy cleverness, or parody, or ironic proficiency, or jazzed up sanctimony. The guitar isn't overused as a gimmick or a crutch. Instead, Kristin Key's rousing, rowdy ditties make sure everyone leaves so thoroughly entertained, to the fullest extent of the comic's powers, that they limp home after the show.
Listen to: Kristin Key – "Buckle Up!"
Listen to: Kristin Key – "The Moral of the Story"
Listen to: Kristin Key – "Where The Cab Takes You"
Listen to: Kristin Key – "I'm A Hooker"
Karen Williams
Karen Williams is a force, a buzzsaw joke machine. She is proactively provocative, fearless in confronting cliches, investigating stereotypes through hyperbole. Her comedy stands out as a distinct, cantankerous voice in the lesbian community and a unique perspective in the world at large. "Human Beings: What A Concept," Karen Williams' debut comedy album, is a glimpse into the interpolitics of a marginalized group that, by necessity, became curators and creators of their own culture. Karen addresses conformity in kindness, therapy, endless relationships, adoptive families, and Birkenstocks. She shares misgivings about aging, codependency, intercourse, motherhood, especially regarding intersections with race and metropolitan living. Karen tells it like it is, as she sees it, cutting through the pleasantries with nuance, texture, ambiance, ambivalence and gusto. She has lingo for those in the know and expertly crafted elaborations for those who aren't. Throughout, Karen displays an unmatched genius for sarcasm, irony and rhetoric. If something doesn't make sense, she'll knock some sense into it, but gracefully. Her technique is impressive. Rather than beat her opponent over the head, she'll take the egregiously erroneous or misinformed stance as her own, stretch the faulty logic until it's paper thin, and wrap the whole farce up into a bow. Karen Williams is special.
Listen to:  Karen Williams – "Human Beings, What A Concept"

Renée Santos
Renée Santos is full of life! There's so much to enjoy with her recent debut, "Outside the Box." She gives you a little bit of everything: funny voices, wordplay, musical comedy, rapturous storytelling. "Outside the Box" has a down to earth, lived in authenticity and an intangible likeability that's hard to beat. Renée Santos endears through natural showmanship, genuineness and artistic integrity. She's extremely gifted at being herself. If you're a fan of funny, emergent comedy, speaking truth (and swearing like a sailor), you have to listen to Renée Santos. There's nobody quite like her.
Listen to: Renee Santos – Outside The Box

Suzanne Westenhoefer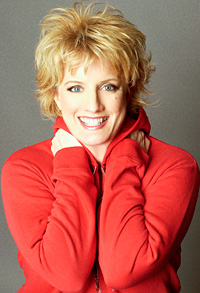 Suzanne Westenhoefer is an excellent storyteller. She knows how to spins a yarn, how to weave in jokes, how to reveal and revel with a steady pace. "Nothing In My Closet," "I'm Not Cindy Brady," and "Guaranteed Fresh" are as fun and refreshing as comedy album trilogies get. Suzanne's autobiographical stylings highlight  the domestic life, her long time romance, her family, her split time between the coasts and the Midwest. The colorful array of characters, from the Amish in her native Pennsylvania to the animals that dominate her home, are wonderful. Her comedy is a tribute to her life, which, because of her stable relationships, builds continuity across her catalog. Suzanne is magnetic with an understated grandiosity. She is a veritable rockstar, hobnobbing with Elton John and Billy Jean King, but radiates an endearing openness that makes listening to her comedy feel like catching up with an old friend. It's easy to love Suzanne Westenhoefer because we are Suzanne Westenhoefer. She represents our collective vibrancy, the good in us, the petty arguments and grievances we hold, the love and goals that we cherish.
Listen to:  Suzanne Westenhoefer – "Nothing In My Closet But My Clothes"
Listen to:  Suzanne Westenhoefer – "I'm Not Cindy Brady"
Listen to:  Suzanne Westenhoefer – "Guaranteed Fresh"
https://uproarcomedycd.com/wp-content/uploads/2020/08/uproarcomedylogo.png
0
0
admin
https://uproarcomedycd.com/wp-content/uploads/2020/08/uproarcomedylogo.png
admin
2018-12-02 23:11:59
2018-12-19 19:29:33
The Top Spotify Lesbian Comedians